Description
Employ NFC on the MATRIX Creator to authenticate users before issuing voice commands to Google Assistant and prevent Google from "always listening"
The MATRIX Creator is a hat for the Raspberry Pi that has been described as a Swiss army knife for your Pi.   It boasts a suite of communication protocols, a ring of RGB LED, a microphone array, and more!
In this webinar we Samreen and Afred will focus on using your NFC to preserve privacy w/ cloud based voice AI on your IoT Device.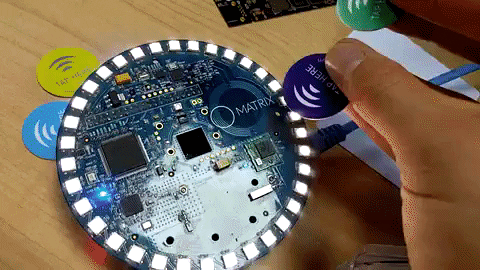 You will learn how to utilize Google's Voice AI libraries with a "push-to-talk" model to voice-control your hardware project. Program NFC tags to activate your MATRIX Creator's microphones, thus preventing the transmission of irrelevant data to the cloud, while also authenticating the user.
What attendees will learn:
How to program NFC actions in JavaScript on the MATRIX Creator
How to implement NFC-activated microphones on the MATRIX Creator
Examples of how users can develop their own security measures for connected assistants
Later on in this webcast, Samreen and Alfred will be joined by special guests sjmill01 and connormiller to discuss their Spider-Man:  Into the Maker-Verse that they built as part of the Electronic Toys competition from Project14.
Be Sure to Check Out the Following Resources:
The Presenters
| | |
| --- | --- |
| | |
| Alfred is the Innovation Manager at MATRIX Labs and AdMobilize. As Innovation Manager, Alfred juggles many hats ranging from marketing, operations, engineering, and sales. He is one of the first employees at MATRIX Labs, joining almost 5 years ago at the ripe old age of 16. Alfred has had a life long passion for technology starting at the age of 5 when he would setup PC's for his parents office to when he taught himself programming at the age of 10 and continuing into high school where he was the President of his schools FTC competing robotics club. | Samreen is the Community Manager at MATRIX Labs. She enjoys robotics and design, and so found MATRIX Labs to be a great fit. You may see her on the MATRIX & recently E14 community, live streams, and some Project14 projects. Before starting work, Samreen studied Mechanical Engineering, CS & design integration at the University of Virginia, and now learns from the MATRIX community and platform every day! |
When and Where
Start Time:

Oct 23, 2019 5:00 PM CDT (America/Chicago)

End Time:

Oct 23, 2019 6:00 PM CDT (America/Chicago)

Location:

On24
Event Info
Event Type:

Webinar

Event Visibility & Attendance Policy:

Open