We've released the first beta update in the development branch ahead of BitScope DSO version 3.0.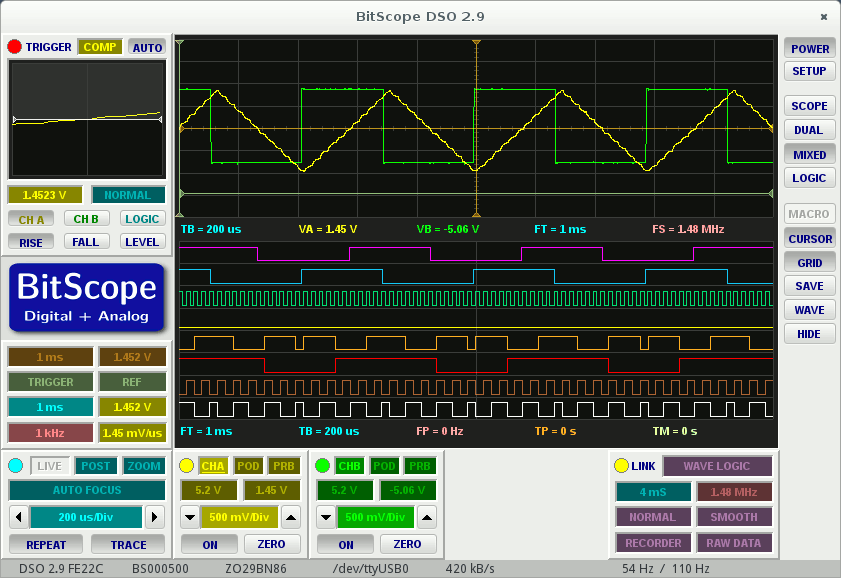 DSO 2.9 Ready Now
We've been collecting your feedback as we work towards the release of DSO 3.0. We have added new features and fixed many bugs. The time has come to make the new version available for beta testing. We want you to have the latest software for BitScope as soon as possible. This means releasing the new version it while it's still in development. This software fixes many bugs reported in earlier versions but it may also have some new bugs of its own. We recommend this version if you have encountered problems when using older ones or if you want the latest features and to help us improve this software with your feedback.
New features, familiar software.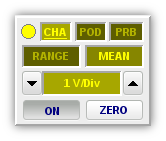 We aim to update this very popular software application in a way that does not interfere with how you already use it. For example, shown here is how the channel controls look when first started with BitScope Micro with BitScope DSO 2.9. You might not notice much difference and all of the parameters work with the familiar Act On Touch User Interface introduced in DSO 2.5, but there is a new button (ZERO) and the values reported via some of these parameters are much more informative than before.
Reporting bugs and requesting features.
So how do you know what all the changes are and how do you download the track development? Since we started using trello to offer more comprehensive technical support online, you've told us that you like it, so we're now using trello to enable you to track development and offer prompt updates for our software in development.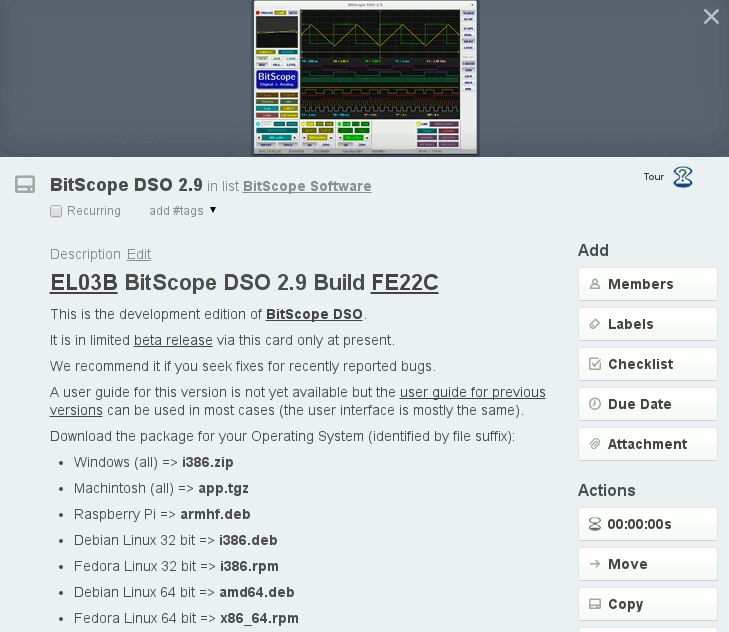 Simply visit and optionally subscribe to the BitScope DSO 2.9 development card to keep track of what's happening with DSO. Updates can be downloaded directly from the card as they are released and you can comment or make feature requests too. If you're new to BitScope DSO we highly recommend you visit the quick start quide to get up and running quickly. Once you're familiar with the basics you can refer to the BitScope User Guide for full details (for the production release).
If you have technical or other questions, see our online technical support and you can email us about software issues to software@bitscope.com. Of course, BitScope DSO is not the only choice. There is a range of software so we'll be doing the same (using trello) for all of these. For example, we've also recently published a card for the BitScope Library. Others are coming soon. Updates are available (via the card) for Windows, Macintosh, Linux and ARM platforms including Raspberry Pi ! Please see the development card for all the details but in summary, our focus for this initial release is to add features for BitScope Micro in support of DC measurement